Pipe type:45 Degree,90 Degree,180 Degree Elbow,Long Radius,Short Radius Elbow
Size:NPS: 1/2''~24''(Seamless), 24''~72''(Welded);DN: 15~1200,
WT: 2~80mm, SCH 5~XXS
Bending Radius:R=1D~10D, R=15D, R=20D
Material & Standard:
Carbon Steel --- ASME B16.9, ASTM A234 WPB
Stainless Steel --- ASTM A403 304/304L/310/310S/316/316L/317L/321 ;
Alloy Steel --- ASTM A234 WP1/5/9/11/12/22/91
Ends :Square Ends/Plain Ends (straight cut, saw cut, torch cut), Beveled/Threaded Ends
Packing:Packed in Wood Cabins/Wood Tray
Usage:For conveying gas, water and oil either in the oil or natural gas industries
elbow is a pipe fitting which is used as a connection point between two lengths of pipes to produce a change in the direction of flow in the pipe, usually at an angle of 90°, 45° or 180°. Elbows are also commonly referred as bends, and are available in a range of materials such as stainless steel, carbon steel, alloy steel, nickel alloys, duplex, and cupro nickel.
Also known as 90° bends, 90° elbows are manufactured as SR (Short Radius) elbows and LR (Long Radius) elbows. 45° elbows are typically made as LR (Long Radius) elbows.
The long radius elbows have a center to end distance that is 1.5 times the NPS in inches (R=1.5D), while the short radius is equal to the NPS in inches (R=1.0D).=Short radius elbows are generally used in tight areas, and long radius elbows are used when space is available and flow is more critical. We can also manufacture and supply carbon steel elbows and stainless steel elbows in non-standard size angles such as 60°, 100°, 120° or 150°.
The ends may be machined for butt welding, threaded (usually female), or socketed, etc. When the two ends differ in size, the fitting is called a reducing elbow or reducer elbow.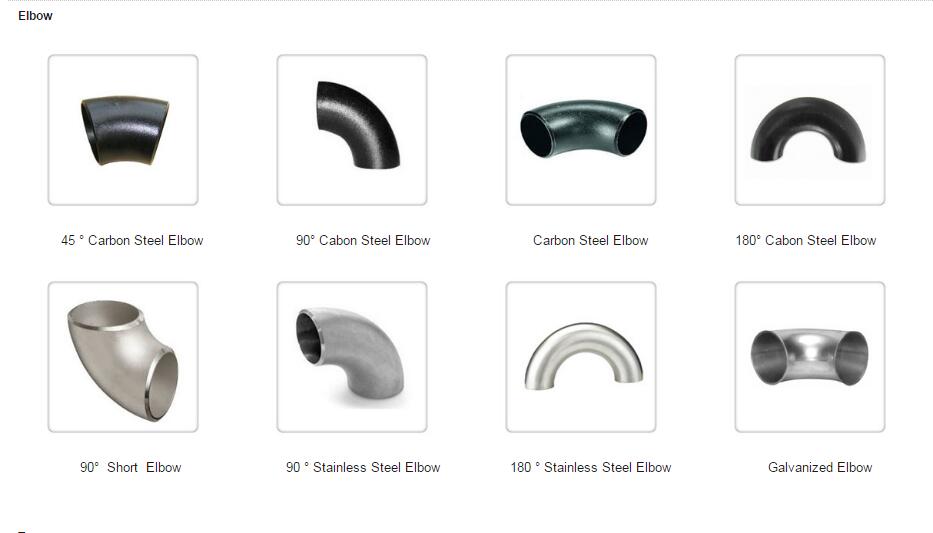 pipe and pipe fitting welded assembling
can be customized according to the customer's special design and requirements.